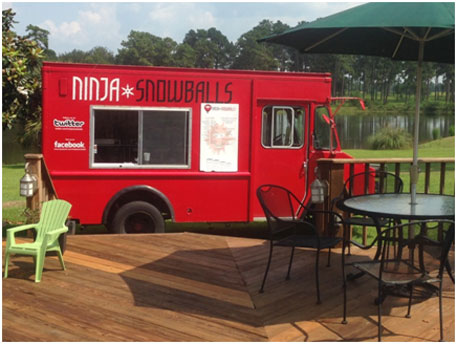 Pictured above is Bessie, our beloved snowball truck at a birthday party in someone's back yard in Amite, Louisiana. Our truck can get most places, but our new PORTABLE CARTS can "roll" from the truck to virtually anywhere, including your courtyard, pool deck, or even living room!
CURRENT BIRTHDAY SPECIAL:
NORMAL: Just go to our booking page and order at our normal rates; and, we will serve unlimited snowballs, usually at a rate of 100-150 per hour, allowing seconds and thirds!
SPECIAL: Are you tired of cooking and cleaning up and shopping?
We now provide a complete booking package of food and drink birthday parties for up to 50 people for only $350!
Ask any pizza, laser, movie, or other venue, how much a party for up to 50 guests would cost (many times possibly over a thousand)!
We provide nacho trays (up to 50) along with our world-class Ninja snowballs for this low, special rate. Nachos are with cheddar cheese in small trays (jalapenos on request).
Your birthday child/children are even welcome to come aboard and pour their first snowball!
Then ask any venue if they will bring it and staff it at the place of your choice (including your backyard!
Use the discount code NACHOBDAY350 when booking
We do all the work so all you do is click the BOOKING button below to book your event now!